TO The Campbell River Hospital Foundation
Our community has a big heart and makes a big impact through its donations. There are several ways to donate to the Campbell River Hospital Foundation: online, by phone, by mail or in-person at our office, scroll down for more information.
Donations can be made one time or set up on a monthly plan, no amount is too small!
ONLINE
You can donate online through Canada Helps, our secure online donation system.
BY PHONE
To make a donation by phone, please call us at 250-286-7164 or Toll Free 855-550-2418.
Our office is open 9am to 4pm, Monday to Friday. We accept Visa and Mastercard.
BY MAIL OR IN PERSON
Please print out and complete our donation form. If you are donating on behalf of a company or organization please provide the company name and appropriate contact information.
We are located inside the main entrance of the hospital, to the right of the information desk.
Monthly Giving
You can sign up for monthly donations. Our monthly giving program allows you to donate over 12 months by pre-authorizing withdrawls from your bank account or making reoccurring charges on your credit card. Monthly gifts can be for any amount of your choosing and may be altered of stopped at any time. Your regular donation allows for more efficient planning, and you will be supporting a valuable and critical community asset so it will be ready when you and your loved ones need it most.
By giving a small amount every month, you can make a big difference in your hospital.
Planned Gifts
We are grateful to be considered a part of your legacy. For more information on planned giving, please
click here
.
Gifts in Kind
The Campbell River Hospital Foundation accepts gifts in kind that are tangible and can be used by our hospital and Yucalta Lodge (such as a used wheelchair or walker). We also accept gifts that can be disposed of for cash (for example real estate).
The fair market value of a gift in kind is determined by the price the property or item would bring in an open market transaction and all gifts in kind over $1,000 require independent professional valuation that is paid for by the donor if he or she requests a charitable donation tax receipt.
Matching Gifts
Many Canadian companies encourage charitable giving by matching charitable gifts made by current employees, retirees as well as spouses and widows or widowers of employees.
The majority of gift matching companies match gifts on a 1:1 basis, however there are some with matching rations as high as 3:1. Matching gift programs typically include minimum and maximum limits for eligible gifts as well.
The appropriate forms and guidelines can be obtained through your company's Human Resource office. Please check with your employer to see if they will match your contribution to the Campbell River Hospital Foundation.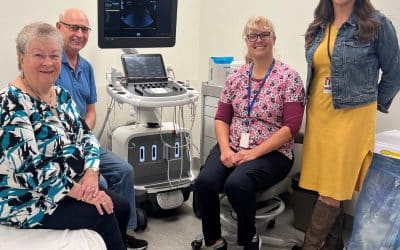 The First Open Heart Society - Campbell River Chapter has made a generous donation of $20,000 to support the purchase of the latest Echocardiography Machine for our Heart and Lung Department at the Campbell River Hospital. This state-of-the-art equipment employs high...
read more