TO The Campbell River Hospital Foundation
Your children were born here, a grandparent lives here and your friend's life was saved here. We understand that often we forget the impact health care has on our lives unless we are at the center of a crisis.
When you give, you make a significant difference in the lives of patients and their loved ones. Because of you we are able to purchase vital medical equipment, support staff education and fund special projects the help build a healthier community.
"When needed, our hospital's services have always been there for us.
We give monthly to the Hospital Foundation to ensure these services are enhanced for all of us in the future."
Why support local charity?
Giving locally provides a personal relationship and the confidence of knowing where and how your dollars will be spent.
Giving locally allows you to see firsthand how our gifts are being put to work.
Investing in local nonprofits has a positive economic impact.
By supporting local charities, you contribute to the growth and improvement of the place you spend the most time in the world.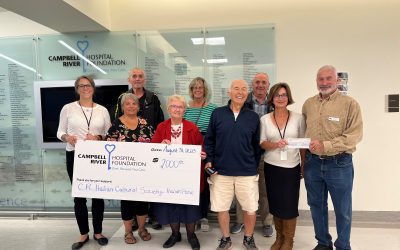 Campbell River Italian Cultural Society Donates Critical Medical Equipment to Campbell River Hospital The Campbell River Italian Cultural Society has taken a proactive step in enhancing local healthcare by donating funds towards the purchase of a Glidescope for the...
read more